"What have you been up to lately?"
When asked, we send people to this page.
+++
FUN WITH LASERS (AND A BOARD-CERTIFIED PLASTIC SURGEON)
Lasers are awesome. But they are also dangerous. That's why you should only get tattoos removed from a certified plastic surgeon, someone who actually knows what they are doing (while we could pretend, we have no business using lasers). Safety was a key takeaway when filming Travis Shaw, M.D. and his staff. Two videos - one, a general overview of the practice, and a second on its tattoo removal speciality - were filmed in the course of a day.
While in the office, we also took "ambient" footage suitable for website backgrounds and parallax scrolling. The Director of Photography on the project was B.J. Robinette.
+++
advancing an advanced nursing specialty
Over the past year, we have collaborated with the marketing team in the VCU Department of Nurse Anesthesia, one of nine departments in the fast-growing VCU School of Allied Health Professions, to overhaul its communications strategy and materials. There is a reason the Department of Nurse Anesthesia is ranked the No. 1 nurse anesthesia program in the country, which you will understand from the moment you meet the passionate academic staff and alumni.
The result of our work together has been a multi-channel effort, providing fresh design, updated copy, and an increased digital presence on social media and Google search. This was been a project that touched on a number of our different specialties: content development, graphic design, marketing strategy, digital media, and advertising. Some of our work is below.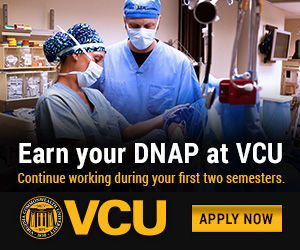 +++
BUILDING A STORY, NOT A DIGITAL BROCHURE
Too many companies make the mistake of using their website as a basic digital brochure. Or they load them up with keywords, in hopes of being found by Google, and wind up getting nowhere. Great websites should tell a story, and those who write them should never purposefully stuff them with fluff.
Our longtime partners at Virginia Community Capital were in dire need of a new website, which, among other issues, was built on outdated technology, had few if any calls to action, and lacked mobile-responsiveness (Or is it "responsivity?" Whatever). We worked alongside our insanely talented friends at Co+Lab, the Richmond based web and digital development group, to create a website for the client that truly shines.
Kelley handled all the copy - built to financial regulations and compliance - and worked closely with both sides to keep the project on time and budget. To get the content to its fresh new state - including its double-meaning headline, "Investing for Good." - we worked closely with numerous stakeholders both inside and out of VCC to craft and execute a well-rounded, deep story for the financial institution.
Anyway, enough talking. Go check it out.
+++
CREATE A STORY - NOT A WEBSITE
By now, everyone gets the basic idea of what a website needs to be: an About page. A list of services or products. Bios. A Contact page. But if we keep doing things the same way, we'll get stuck in the status quo.
That's why the team at Co+Lab, a Richmond-based - but nationally known - web and digital development group recognized the need to take online work farther, and make it not traditional, but exceptional. When Virginia-based financial planners Verus came to Co+Lab for a website, Co+Lab came up with an innovative concept for a website - to make it a story - and turned to Kelley to help bring it all to life.
Our approach was not to pick up a pen and get writing. We had time, and we took it: we interviewed senior leaders, management, and the freshest faces at the firm. We interviewed via phone whenever and wherever was convenient for the people of Verus and their busy schedules - from out of our office, from coffee shops, from the side of a country road, and even from a Chipotle parking lot. We talked to their clients. We dove deep to understand the Verus culture, its people, and the work it does. Themes emerged ("helping others," "servant hearts," the faith and vision of its leadership), words were used regularly, and the voice of the firm's people began to fill a blank page. And with an understanding of financial compliance, we were able to craft effective copy in a regulatory-friendly fashion.
The result is not simply a company website, but a company website that tells a story through words and even a short firm video. Verus also used some of our original photography on its website. We're proud of the work and true team effort that went into creating this project.
Website by Co+Lab. Copy, photography, and video production by Kelley. Video co-produced by SpangTV. Director of Photography BJ Robinette.
+++
WHEN THINGS GO "OW"
Here's a sampling of some recent work with OrthoVirginia, the state's largest provider of treatment and therapy for your bones, joints, muscles and everything in between.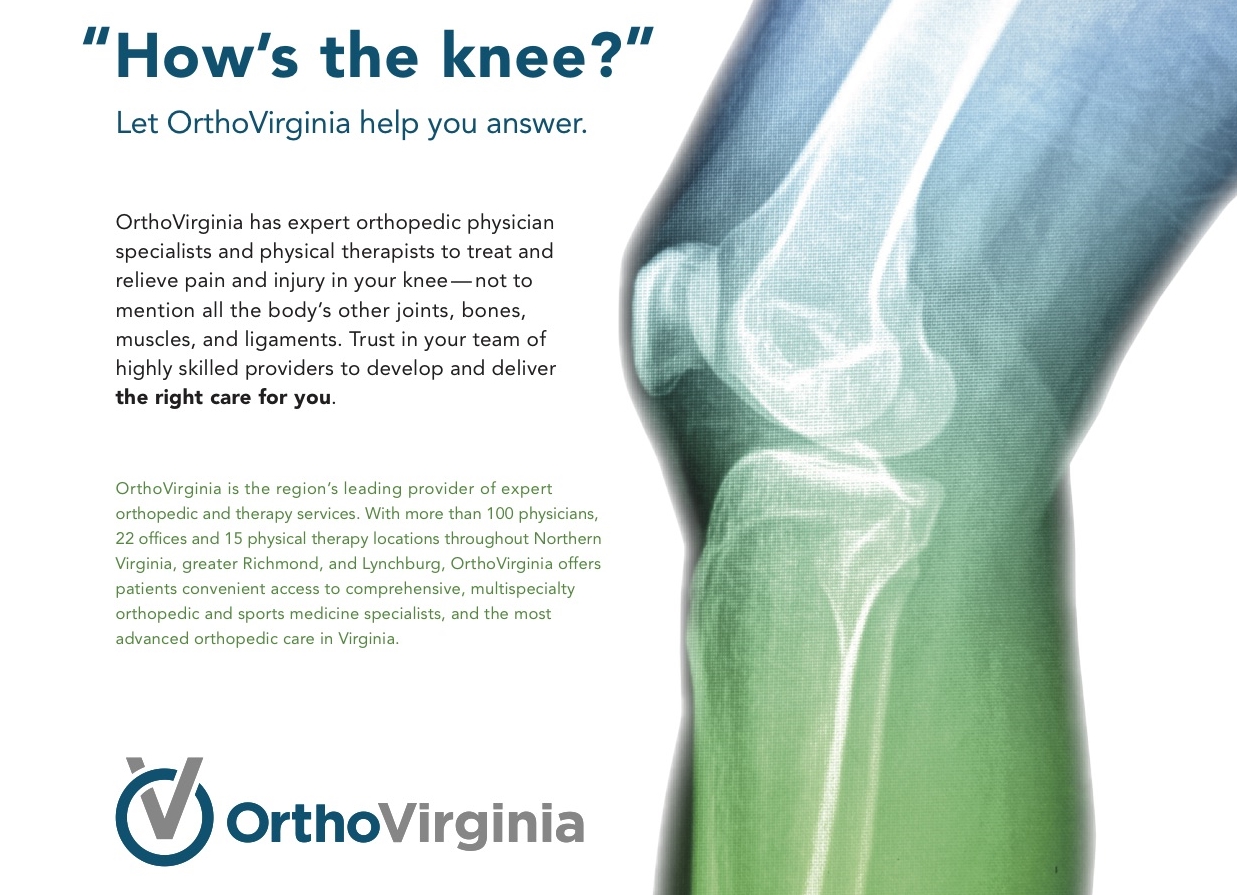 You hear a lot of negative press around banks. So it's refreshing when you get to know a bank that is doing good by using its resources to invest in the future of its community.
In this case, that community is the underserved parts and people of Virginia, upholding jobs and projects that promote a better quality of life.
Ten years old this year, Virginia Community Capital has become known as a bank that makes loans when and where others do not, combining the resources of national, state and local social investors into a collaborative effort. VCC is structured as both a non-profit community development financial institution and a for-profit bank.
Late last year, they called on Kelley to help them promote their 10 years of growth, and build media attention in conjunction with events they held around the state to highlight their impact.
Through a strategic media relations campaign, Kelley delivered numerous statewide media hits for the bank: a cover story in the Richmond Times-Dispatch's weekly business magazine (now darn-near the top of a Google search for the bank), along with event coverage in the Lynchburg News & Advance, Danville Register & Bee, Southwest Virginia Today, and even a little bit on WSET in Danville.
Like any engagement with our valued partners, our goal was to ensure VCC didn't lift a finger when it came to media relations until it was time to talk to a reporter or get a picture taken. And in whatever we do, that's our goal for you: bring us in, let us handle it, and keep your focus to doing your continued good work.
NOT TO GET POLITICAL, BUT we don't understand politics
We're not all that political, which is actually an understatement: We listen to political news with our mouths agape, scratching our heads, wondering what all those super-wonkish terms on TV even mean. Frankly, it probably wouldn't hurt to stay more up-to-date on political news, or to know the name of our current U.S. President.
But this lack of knowledge is also the reason we were approached by non-partisan group OneVirginia2021 to create a video to raise awareness about a real problem: politicians in Virginia can draw their own electoral lines that determine the people who will get to vote for them. It's an unfair process - known as gerrymandering - that eliminates competition in elections and destroys your rights as a voter.
Our complete and utter lack of understanding on the "redistricting" process allowed us to come in fresh, learn about the issue, and help explain it to many Americans and Virginians who, like us, are pretty much clueless on the issue. We crafted a simple way of describing a complex topic, and did so in the form a spoof political candidate ad featuring a fake politician named Jerry Mandering (get it?). Filmed in December 2015 and released in mid-January, the video is approaching nearly 100,000 views on distribution channels that include Facebook, Twitter, and YouTube. The video received a writeup in the Washington Post. The New York Times caught wind of the ad and interviewed the organization's executive director. And, most importantly, more people out in the world are learning (and hopefully laughing about) a serious issue that affects them, regardless of whether they pay attention to politics.
Plus, the ad features an aircraft carrier.
The video was produced with the help of Relish Creative Communications. The Director of Photography was Alexander Kreher. Sound & Music was provided by Overcoast, and post-production was handled by pigsalreadyfly :: creative & post. And don't get us started on how we managed to land that baseball-line chalking machine (thanks, Henrico County Parks & Recreation).
Telling short stories wth PHYSICIANS
The world of healthcare is always in need of the prized testimonial, allowing a medical practice to show their skilled healthcare providers and quality of care to the world. But with the right team, under the proper guidance, you can go much farther than a stationary single-camera interview. For OrthoVirginia, we embedded ourselves three physicians of varying speciality, and spoke to patients whose pain has been relieved and lives have been changed thanks to the hands and minds of their doctors. The result is a moving, inspiring short story about a patient and his or her physician, allowing viewers to digitally meet their potential providers. One of OrthoVirginia's three productions can be seen below. Direction and post-production by Philip Opere/Everyday Productions. Cinematography by Zan Gilles.
startups are companies, too
We believe that startups and entrepreneurs are the keys to our economic future. So we help them whenever we can. When we found Tenant Turner, they'd just come off a number of big wins in the entrepreneurial community (funding, competition wins, fast-growth streaks), but they still needed a hand: Communications help. Sales materials. Trade media interest. Ideas on messaging. Startups shouldn't pay the same fees as large companies and communications partners like us should be flexible, so we provided an easy-to-stomach rate and didn't lock the guys into a contract. We wrote and designed case studies, built new sales materials, landed major trade press, and loaded them up with fresh swag. We even took a new picture of the founders to update one they'd been using. The goal was to provide them with a communications foundation to help them get to that next step. Entrepreneurs like Tenant Turner do all the work. At Kelley, we tell their world their story.
not just video - a short film
When the chairman emeritus of Richmond-based national law firm Williams Mullen was to be honored at an MS Society dinner, it was our goal to create a video that would stop the crowd in its tracks and put every eye on the screen in front of them. To do that, we needed to make a captivating short film, not simply a video with static interviews. So we rounded up the grandkids. We descended upon his home (thanks for the hospitality, Smith family). We followed our honored subject around for a day in his life. The result is a four-minute film of not only the man being honored, but a glimpse into his work ethic, his family, and his commitment to the community.
researching bold new COAL-cleaning TECHNOLOGy
Coal is used to make steel and electricity. But before it can be used to do anything, coal must go through a processing plant to both clean and de-water the black rock (this is, of course, a very simple way of describing a highly complex process). Yet as coal gets smaller - say, sand or even talcum powder consistency - it becomes difficult if not impossible to clean, even after decades of technology improvements.
Then a professor at Virginia Tech came along and figured out a way to do it, and coal veterans in Virginia jumped at the opportunity to license and commercialize the technology around the world.
The result is Minerals Refining Company, which officially launched its pilot plant this summer. Working in tandem with web development firm 28Media, we helped build out MRC's digital presence over the course of three months. Poring through company presentations, university research, and other key documents, we created each page of content on the website: condensed, get-to-the-point copy paired with bold headlines that capture the magnitude of the company's industry transforming technology.
On the design side, 28Media created the MRC site to be viewable on any device you're using. The site framework adheres to XHTML/CSS web standards to minimize download times, facilitate future changes and maximize compatibility with multiple web browsers and platforms. Pages are kept simple and as minimal as possible, offering lead generation mechanisms to collect names and contact information from prospects. A Content Management System allows MRC's internal team to easily make regular copy or photography updates to the site as needed - no technical skills or further external costs required.
Original photography from Double Image Studio captures the heritage of the coal industry and the technology that plays such a key role in our daily lives. The bold logo design from Richmond art director Dana Craig accurately depicts the company's process, while colors throughout the site help tie the company back to its maroon and orange Virginia Tech roots. As an aside, we also thoroughly enjoyed working with longstanding industry veterans while learning a thing or two about high-tech coal separation and de-watering technologies. It is, truly, fascinating stuff.
Heart Treatment in Tennessee
Franklin Street Marketing, a phenomenal national health care brand consultancy, approached us to lend a hand in creating a commercial for two cardiovascular programs at their health system client in Tennessee. We jumped at the opportunity because a.) hearts are cool and important, and b.) we love fast deadlines. We interviewed providers at the health system and included phrases and terms they use with their patients to copy-write and concept the end product: two 30-second television ads for the Transcatheter Aortic Valve Replacement procedure (TAVR) and electrophysiology (EP) services. The spots are below. Production by Franklin Street Marketing.
HOW DO YOU RIVER?
The James River Association is doing incredible work as stewards of a national treasure that runs through Virginia, which is not only a fun place to hang out and drink beer, or kayak down, or serve as the subject of your Instagram feed, but is also a source of economic vitality and even our drinking water. We've been honored to work with the organization for a cause that we're passionate about, offering pro bono strategy, copywriting, and graphic design for the "How do you River?" campaign. We also helped them launch an Instagram campaign that is drumming up dozens of pictures a day under the tag, #howdoyouriver. Use the tag however you choose to experience the waters of the James River.
aNOTHER dam COMPANY logo
"We've been around for eight years and need our logo freshened up. But we don't want to go too crazy or anything. Basically the same thing, just, you know, fresher."
"Sure, we can do that for you." Here's the before and after.